Spoiler Warning: Plot and/or ending details are in the text which follows.----
"Too bad!!" -Jet's girlfriend
A person who went out with Jet. She turned out to be a killer and later tried to kill Kelly with an axe. Legs kicked her axe up and she was stabbed by the sharp end. Everyone thought she was dead. (She wasn't) It turns out that she was the one that cut Legs in half.
She came back to try to kill Jet, but Danny shot her. She is dead and will not come back in the show.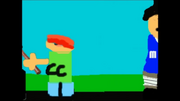 Ad blocker interference detected!
Wikia is a free-to-use site that makes money from advertising. We have a modified experience for viewers using ad blockers

Wikia is not accessible if you've made further modifications. Remove the custom ad blocker rule(s) and the page will load as expected.