Spoiler Warning: Plot and/or ending details are in the text which follows.----
"Don't say (bleep), stupid!" -Snelly
Snelly is mean to Jet and would always beat him up! She was taken out of the show. She is Kelly's sister. She was taken to Little Damien Mental Hospital by Officer Scumbag for biting Danny's leg and was later killed there. She is based off of Shelly from South Park.
Death
Officer Scumbag held her at gunpoint at the mental hospital so she couldn't bite him. He thought she moved so he shot her in the face.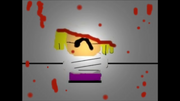 Ad blocker interference detected!
Wikia is a free-to-use site that makes money from advertising. We have a modified experience for viewers using ad blockers

Wikia is not accessible if you've made further modifications. Remove the custom ad blocker rule(s) and the page will load as expected.